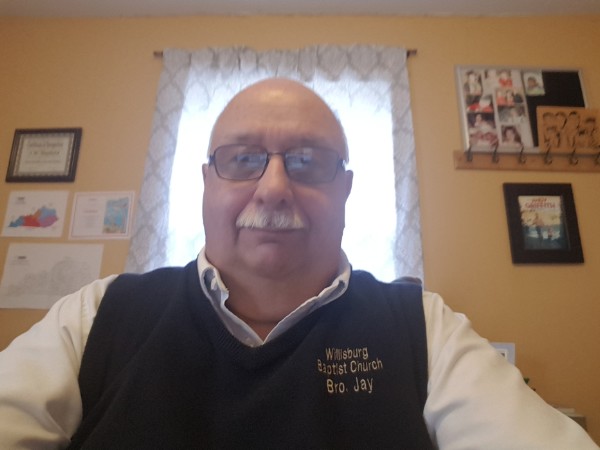 This year is just about over, and it has been another year of COVID for the most part. It continues to affect our numbers in Sunday School and worship. As we close out this year, I want to ask you to be in prayer for God's hand to be upon our association and our congregations, that we will step out in faith and trust God to take care of us. We have got to get back to taking the Gospel to Every Home and creating fellowship amongst our members and prospective members. Thanksgiving and Christmas are coming up, and these are times that people are supposed to be together. Pray for God's healing, restoration, and salvation upon the world.
We had our Children's Missions Day at Temple Baptist Church on September 11th. The Springfield Police Department sent two officers to talk with our children about their work in the community. Some of them got to sit inside a police cruiser and turn on the lights and siren. Some tried on a bulletproof vest. What an experience this was for each of the children. I also believe it was a tremendous experience for the officers. The children visited the Springfield and Lebanon Police stations delivering lunch for the officers. That following Monday, my wife Cheryl and I took lunch to the Washington County and Marion County Sheriff's Departments. At each site, we had prayer with those present.
Our annual Fall meeting was at Muldraugh Hill Baptist Church on October 3rd. We had to switch locations due to illness at Central Baptist Church. The meeting was well attended: considering the issues with COVID. At the meeting, Cheryl and I were honored with a beautiful clock celebrating 15 years as the Director of Mission/Associational Missions Strategist for the Central Baptist Association. Thank you for the honor of allowing us to work and minister with you. Blessings to all! Brother Jordan Simpson was also honored for serving as our association moderator for four years. Brother Terry McIlvoy will now be our new moderator, and Steven Carney will be our new assistant- moderator.
As we prepare to go into the new year, I am looking forward to setting up training for our church leaders. I believe we as an association need to be building up our leadership amongst our congregations like Deacon Ministry, Sunday School Teachers Training, Youth Ministry, and Discipleship. I will be talking with leaders in our association as we prepare for this training. I will also converse with leaders in our Kentucky Baptist Convention about programs that are available to us.
As I close, please pray that we will see a return of people to the churches. Pray that people will develop a hunger for the Lord and excitement to be a part of the church's ministry to the community and beyond. May God bless you and your family during this season of Thanksgiving and Christmas that will soon be upon us.
Bro. Jay Hatfield